With locations across Illinois, Indiana, Wisconsin, and Michigan Weil Foot & Ankle Institute is committed to providing comprehensive foot and ankle care. We are proud of all of our facilities, and our podiatry practice in Mount Prospect, IL is no exception.
Our podiatrists in Mount Prospect, IL are more than just excellent, award-winning doctors, they are also compassionate, caring individuals. We at WFAI recognize that every individual has a unique set of circumstances leading them to seek care. You are not just another patient. You are like a member of the family.
Our podiatrists value science and evidence-based medicine. Many have contributed to numerous research studies published in academic journals. They also maintain board certifications in podiatry.
Our podiatrists can help with a variety of conditions including arthritis, bunions, corns and calluses, flat feet, heel pain, hammertoe and claw toe, ingrown toenails, toenail fungus, neuromas, and all manner of sports-related foot and ankle injuries. We aim to treat patients without surgery whenever possible because we want to minimize painful recovery time. Regardless, our primary goal is to treat your foot, heel, and ankle pain. We consider surgery only as a last resort option.
The most important aspect of care at WFAI is patient involvement. We practice consultative medicine, meaning that doctors and patients work together to figure out the best possible course of treatment based on a patient's unique needs and circumstances. This ethic of care is what makes WFAI not just another doctor's office.
If it's your child you are seeking care for, we can help you with that as well. Our podiatrists are well-versed in pediatric podiatry and can treat conditions like toe walking, in-toeing and out-toeing, frequent falls and any issue of abnormal gait. No matter who in your family needs care, we are here to get you back on your feet.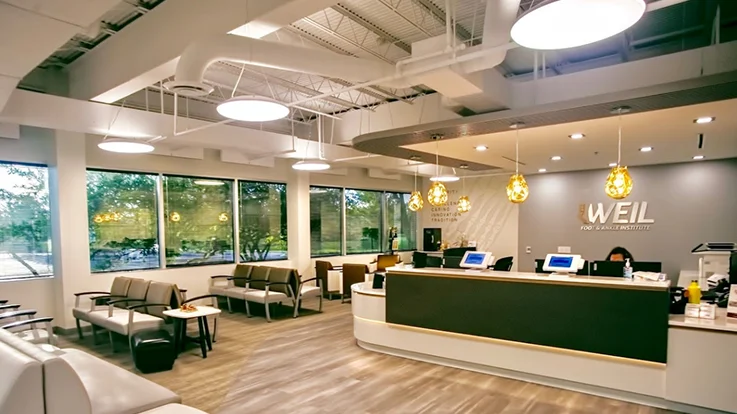 Our podiatry practice in Mount Prospect is one of our newer facilities, and it recently absorbed our patient population from the now-closed Des Plaines office. So it is one of our busier offices with eight physicians. The Mount Prospect office is fully wheelchair accessible, and has extra amenities like an on-site coffee shop, free Wi-Fi, and free parking. We always aim to make our patients as comfortable and at-ease as possible during their visit, so we don't mind taking the extra step to make our offices more accommodating and enjoyable.
When you are ready to take your first steps toward the best in podiatric care in the state of Illinois, call us or click the Appointment button on this page. To make our care available to everybody, we accept most major insurance plans and are currently accepting patients for in-person and online appointments.